December 21, 2017
Earlier this week, Au Gres-Sims Principal, Chad Zeien received this correspondence from the NIKE Marathon Kids organization:
Hi Chad,
Freezing temps have hit most of the country (yes, we got snow in Texas!), so we thought it was time to highlight some of our amazing Marathon Kids Coaches having winter run club fun! Read on to hear their stories about keeping run club going strong when the weather turns chilly.
It's always a good idea to check out our Cold Weather Running Tips before you head outside with runners to ensure everyone's health and safety. If it's too cold to be outside, the gym is a great place for running games; don't be surprised to see Marathon Kids running laps in the hallways to get their miles in this winter!
Have a wonderful holiday break and we'll see you in 2018,
Team Marathon Kids
AGS #OnTheRun - Au Gres, Michigan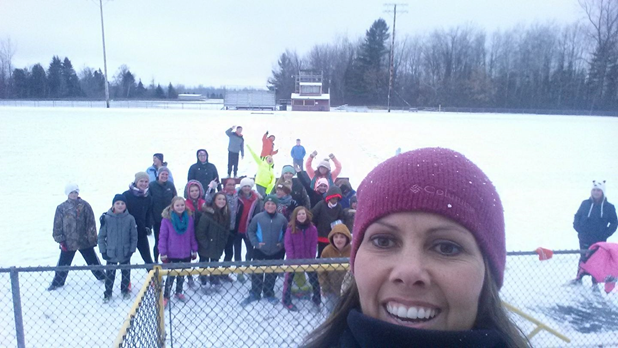 Coach Kelly Gough: " In these chilly, Northern Michigan snowy weather
days, some of the ways [we] keep motivated are: Keep a clear head without any
negative comments about 'It's too cold' or 'We can never run outside.' Help
each other stay positive....Have a 'once a month' hot cocoa date after practice
to warm up....[and] as much as possible, RUN RUN RUN yourself so your runners
know they are not alone and you are giving the same, best effort you are asking
of them EVEN when it is cold, wet and your lungs start to hurt. A rule always
is (no matter the weather conditions) if you pass by someone on the trail or
the track, you need to offer a piece of encouragement. Have fun...you are
building memories with your friends and coaches AND you are building your body
to be stronger with each and every step."
Pershing Panther Prancers - Berwyn, Illinois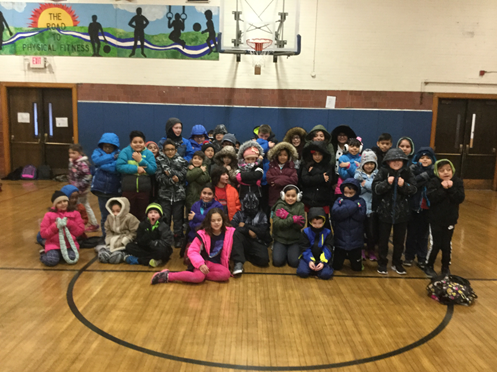 Coach Gert August: "We are from Berwyn, Illinois, a western suburb just outside Chicago, so we feel the Lake Effect winds and snow. We try hard to have kids wear layers, T-shirt's, long sleeve, sweatshirt, hats and gloves, but most end up wearing their winter jacket [too]." Coach Gert keeps her runners inside when it gets too cold, but mixes it up to keep things fun: "We just started staying in, but the kids never know if we are going to play a game, run laps, or both."

JW Soaring Eagles - Portland, Oregon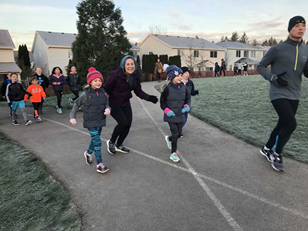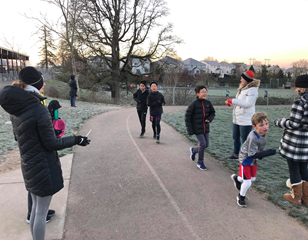 Coach Brent Van Volkinburg: "We are in Beaverton, Oregon. We do tell [our runners] that the quicker they move, the warmer they'll get." Coach Brent has lots of parents and volunteers helping motivate at run club, too. On a recent cold day, he writes: " These runners are amazing! 25 degrees this morning and these kids were still out there smiling (or maybe their faces were just frozen that way!). Way to go Eagles!"